English at Tillington Manor Primary School
At TMPS we believe English is a fundamental life skill which helps to prepare children for the future. Through our English lessons we help children to develop the skills and knowledge which will enable them to communicate effectively and creatively with the world at large, through spoken and written language. We assist children in enjoying the literature and rich variety through our cross curricular programme.
Have the confidence to produce high quality writing using precise grammar and punctuation through their application of knowledge and skills.

Have the ability to use their powers of imagination to write creatively through enjoyment and enthusiasm.

Show an awareness of the audience and the need to write for a purpose.

Have a love for reading and a broad knowledge of books they can chose to read for enjoyment.

Be reading by 6 where they can apply their knowledge of letter and sound correspondence.

The ability to read fluently with good understanding and stamina.

An interest in words and their meaning to acquire wider vocabulary.

Experience a range of text types and genres, across different contexts to develop their understanding.

Have good listening skills.

Use legible cursive handwriting

Develop knowledge and understanding of the vast English language and the spelling patterns.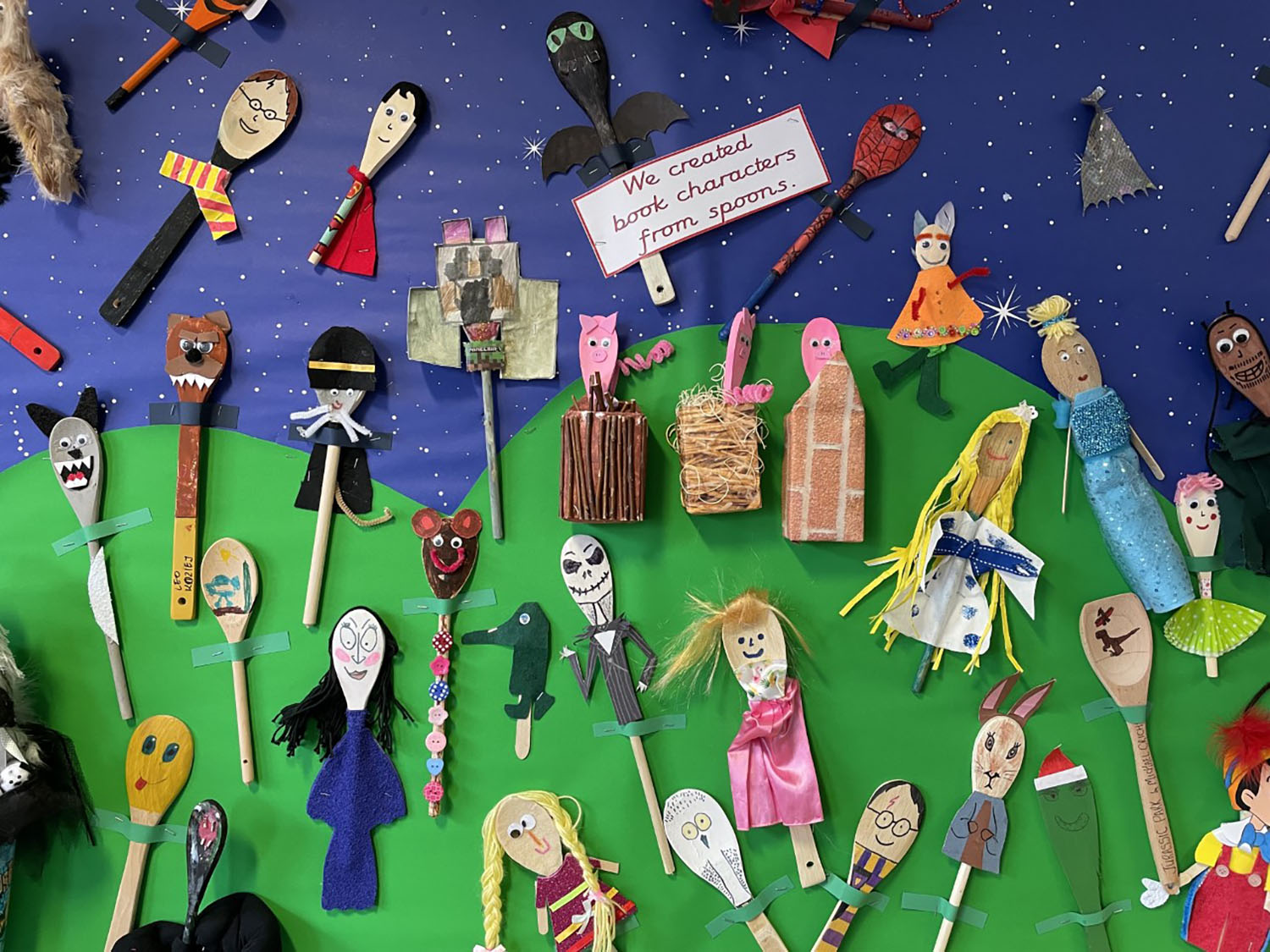 Our English curriculum is split into 3 main areas:
Reading and Phonics

Writing including grammar and punctuation
We teach these core skills through our basic skills lessons but our ethos for English is promoted throughout the curriculum.
Reading at Tillington Manor Primary School
At TMPS, we are committed to ensuring that all children learn to read so we begin this journey at the earliest stage when they join our schooll. We want our children to develop a love of reading that will last a lifetime.
We teach children to read using the Read Write Inc. Phonics programme, which supports children to develop their ability to decode and, as they become more confident readers, to develop their reading comprehension skills, which are then developed across school. It enables every child to become a confident and fluent reader by focusing on sounds and words at a child's own level, regardless of their age.
We understand that the ability to read allows access to the whole curriculum. 
At Tillington Manor, we use the Read Write Inc. programme to support the teaching of phonics and Early reading. It enables every child to become a confident and fluent reader by focusing on sounds and words at a child's own level, regardless of their age.
Reading at TMPS has high priority in the curriculum. A strong emphasis lies in early reading with a focus on RWI session starting in Nursery. There are varied opportunities for reading skills to be taught and practiced within English lesson and across the curriculum:
The teaching of RWI

Sight vocab and red words.

Guided reading session with a link to reading VIPERS

3 weekly comprehension journeys in Key Stage 2.

1:1 reading with reading volunteers.

Use of the Reading Den for reading for pleasure.
Cross curricular texts used across the curriculum.

Daily story time.

Individual reading to increase stamina for reading.

Key stage 1 phonically decodable home-readers linked to their RWI level.

Key stage 2 AR banded book with a follow up quiz.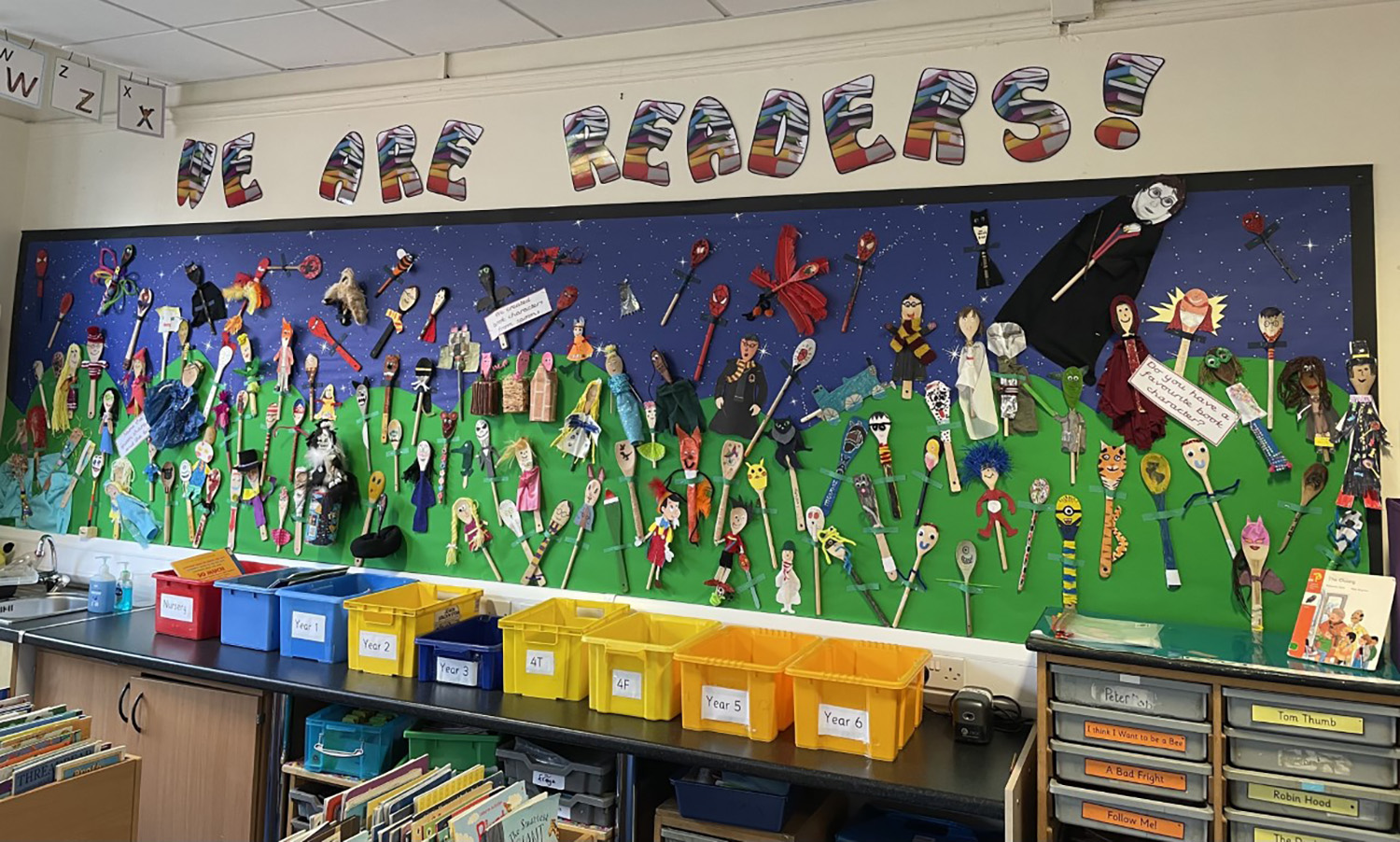 We encourage all readers to share a book at home with their grown -ups. We believe this not only helps to develop their inferential skills, but also supports a life-long love of reading. We expect children to read 4 times a week and diaries are checked on a weekly basis by the class teacher.
As a school, we recognise the value of reading aloud to children to model appropriate use of story language and reading with expression. We want to enthuse them with a love of books and inspire them as writers. Children have the opportunity to participate in exiting reading activities such as world book day.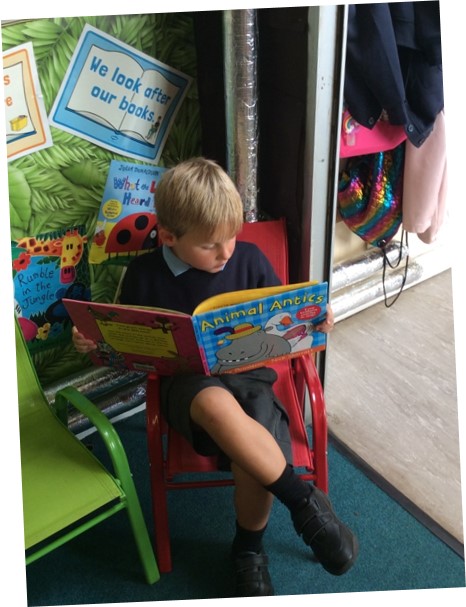 AR is part of Renaissance Reading software package recently adopted by the school to encourage and improve reading, measure growth of the individual reader and to provide quality reading for all. It allows for personalised reading targets to be set up for progress and to be easily monitored. Children from Y3, or after they have completed the RWI programme, choose a book at their level and read it at their own pace. When they have finished, they will take a short quiz, in school.
The STAR reading assessment gives children a ZPD (Zone of Proximal Development) range. The children will refer to this at their 'zone'. A ZPD can and should change as children progress through the year.

Click here to see the TMPS English Curriculum
Click here to see our English policy
Click Here to see our Reading Skills Progression and Reading Domains
Click here to see the TMPS Writing Text and Genre Coverage
Click here to see the TMPS Writing Genre and Skills Progression